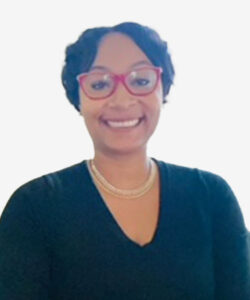 Latonya Jones-Gunning, ACSW is an Associate Clinical Social Worker who  holds a Master's of Science of Social Work degree from the University of Louisville, in Louisville, Kentucky.  Latonya also currently holds credentials in the state of Kentucky and California as she works towards her licensure.    Latonya who is originally from North Carolina, a military spouse, and devoted mother uses her personal and professional experience as an intersectional lens to explore how people can use their support system, community resources, mindfulness, and newly learned skills to live the kind of life they envision for themselves.
Latonya has over 18 years of experience in the health, human, and service field.  Beginning her career as a  Behavioral Health Specialist and Certified Recreational Therapist her experience ranges from working with at risk youth, sex offenders, military service members, their families and the veteran population.  Some particular areas of focus that she has targeted experience with are disruptive behaviors, depression, anxiety, PTSD, relationship challenges, self-esteem, and Psychotic Disorders.  Additionally she has a special interest in the BIPOC community and highly values the family unit as well as the contribution of each individual component.  Her goal is to bring individuals, families,  and couples together while developing positive self-esteem through therapeutic work to help everyone have the fulfilling relationship they desire.
She works from a structural, systemic, collaborative, strengths based approach that is always mindful of cultural , gender, ethnic, and economic concerns.  Her approach is eclectic and individualized utilizing a combination of theories and modalities including the Bowen Intergenerational Theory, Motivational Interviewing, DBT, Cognitive restructuring, and emotional intelligence.
In the midst of helping others she also values doing the same for herself.   She values her inner peace and tranquility  and enjoys all things self care whether its  yoga, mindful evening walks,  or throwing her feet up on the couch to watch a great documentary.   Her relatability will provide you with nothing less than a genuinely welcoming, safe, and transparent experience.